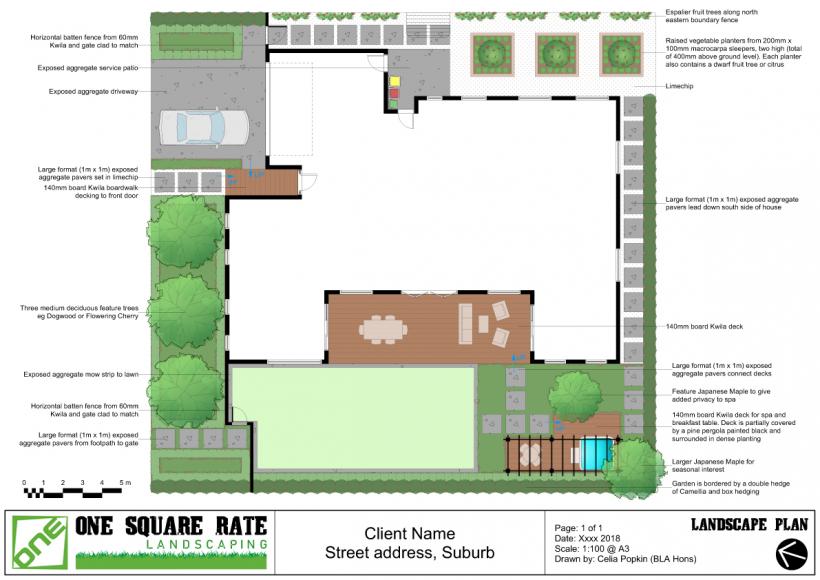 How Much Does A Landscape Design Cost?
Undertaking a landscaping project can be daunting if you aren't an expert, there are so many things to weigh up, not the least of which being how much will a landscape design cost?

In this blog we'll help to clarify the landscape design process by discussing:
How much does it cost to get a landscape design?
What factors will change the cost of a landscape design?
What are the Benefits of Hiring a Landscape Designer?
What are Some Questions to Prepare for Your Landscape Designer?
Why get a landscape design overdoing it yourself?
What do you receive at the end of the landscape design Process?
What's the difference between a landscape design and a planting plan?
What Happens Next?
How Much Does It Cost To Get A Landscape Design - What Factors Will Change The Cost?
Landscape design costs vary depending on many factors:
The size of the section or your garden
How much detail you want on the plan
How complex the design required is
If your developer requires certain information (such as a fencing elevation for example)
If a planting plan is required for your section or garden
We can give you a definitive cost once we've seen your building plans and had an initial conversation with you and have seen your building plans if you're building a new home. Typically, plans start from a few hundred dollars and cap off at a couple of thousand. 

What Are The Benefits Of Hiring A Landscape Designer?

Qualified Landscape Designers have many years of training and experience to ensure your outdoor space or backyard is practical and consistently looks good between different areas. They can make sure suitable plants are put in the appropriate place in terms of soil conditions, light and size they'll grow to, saving you money long term.

Landscape Architects can talk with you to ascertain what style of landscape design you may like and put together something that suits not only your unique lifestyle but also your budget. Because we undertake both design and construction, our designers are familiar with how much various landscaping elements cost.

Some subdivision developers also require a landscape plan to be designed and drawn by a professional and submitted for approval before works can commence on site.

What Are Some Questions to Prepare for Your Landscape Designer?

No question is a silly question! Landscaping is something that a person may only undertake a couple of times in their life, especially for a new build, so we understand that you may have some queries.

Asking your Landscape Architect if you can provide anything to ensure they have the most information available, such as house plans or services plans, is beneficial.

We ask clients to consider the following points prior to meeting with us. It helps if they ask themselves these questions to help us, help them:
What are you hoping to achieve with your landscaping?
What types of materials and plants do you like in your garden?
What do you not like in a garden? Which types of plants? Materials?
What problems does your existing landscaping have?
What level of maintenance are you willing to undertake?
What style or theme of garden do you prefer? (Photos are a great help!)
What is your approximate budget?
Why Get A Landscape Design Instead Of Doing It Yourself?
Ultimately, you will pay more upfront for a professional designer to come up with a landscape plan as opposed to doing one yourself. By getting a professional do your landscape design, you can be assured that you won't make any costly mistakes such as buying a lot of expensive plants and putting them in the wrong area, only for them to die and needing replacement.

You can be assured your paths will feel wide enough, your clothesline and wheelie bins will be considered, and that your outdoor space will meet building code requirements.
All of our Landscape Designers hold a bachelor's degree in Landscape Architecture and have years of experience putting together designs for residential clients in Christchurch - this may not be the case with all companies, so it's best to do your homework!

What Do You Receive At The End Of The Landscape Design Process?

After we've created you a landscape design, you'll receive a scale, full-colour landscape plan for your unique property along with a no-obligation, itemised quote to implement this plan by our team of in-house landscapers.

If you've chosen to have a planting plan created as well, you'll receive a plan which shows details of each individual plant in your design including photographs of them.

What's The Difference Between a Landscape Design And A Planting Plan?

A landscape plan is a digital drawing that shows various elements of landscaping from a bird's eye (or plan) point of view. Landscaping elements included can be both hard (concrete, decking, paving, fencing) or soft (lawns, shrubs, trees).

The plan is labelled with brief descriptions of each feature and is typically in full colour. A planting plan is the same as a landscape plan except focuses on the plants in a design. Where the landscape plan may have shown a green area with maybe a tree or two to represent a garden space with plants, a planting plan will show every single plant included in a design individually.

Typically, the landscaping elements from the landscape plan are still shown but are in black and white with all their descriptive labels removed. Different sized or coloured circles are used to represent each species of plant which are then labelled with a code correlating to a planting schedule.

The planting schedule is a table read alongside the plan which lists each plant's botanical and common names, the quantity required of each species and sometimes other notes (such as whether a plant is edible or frost tender).

The planting plans we offer also include a colour photograph of each plant variety for the client to get an idea of their appearance if they're unfamiliar with it.
What Happens Next?

All landscape designs and planting plans done we do come with a no obligation, itemised quote to implement the works at your home.

We have a friendly in-house team of landscapers that will transform your design into a reality at your home. Alternatively, you are welcome to DIY some or all of your landscaping, however we recommend thinking about access and timing carefully (especially when splitting a project up into stages).

Have a chat to us after you receive your quote about how we can best organise completing your landscaping. If you do decide to DIY, contact us about our plant supply service so you know you're getting top quality plants for a good price.

Looking to get a landscape design for a new build or update your current outdoor space? Get in touch with us today to discuss your unique needs.